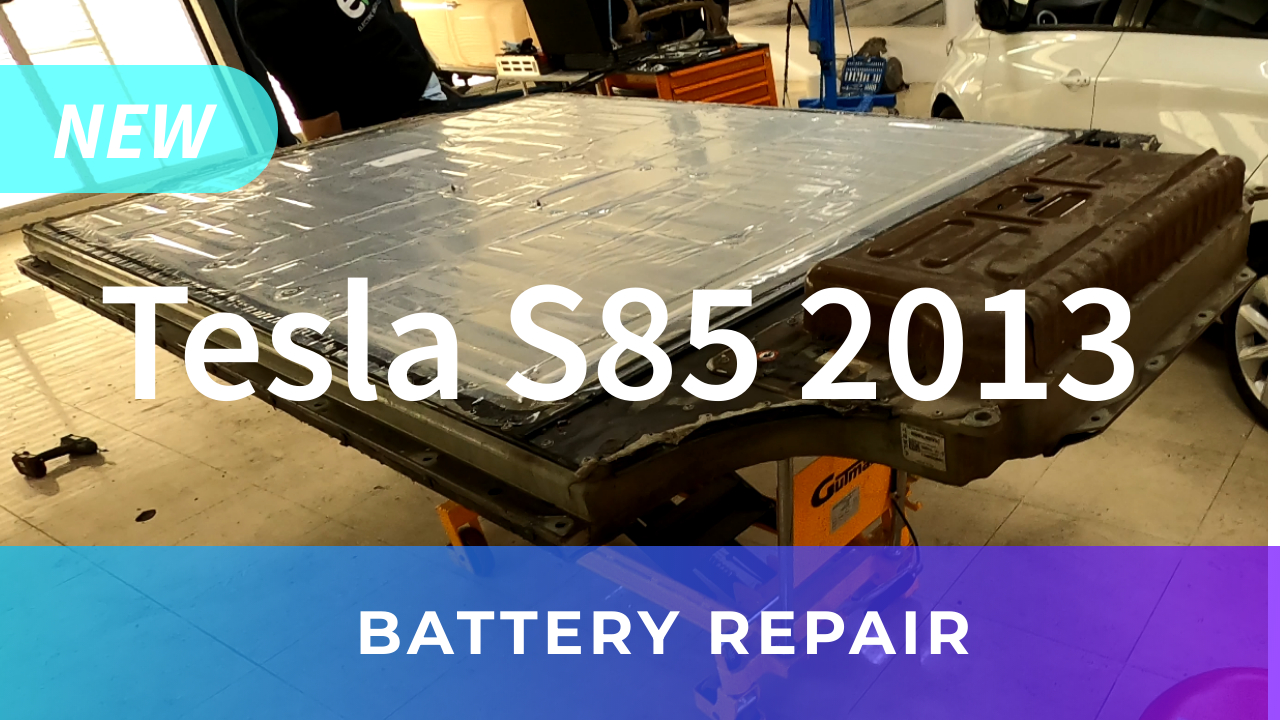 PART 1 – The king of the asphalt and the icon of eMobility has arrived, the only vehicle without a single programmed failure and, in our opinion, the best drive system in the world. The only EV that goes over thousands of kilometers, on which it is possible to fix absolutely every fault up to 20x cheaper than for any other EV. The only vehicle that does not need any multiplexer and diagnostics, because the vehicle is a laptop with its own integrated diagnostics, i.e. the display system is Linux Ubuntu. Defects like the one that came up, battery failure are also the cheapest to solve of all EVs on the market. Breakdowns start from €200 to €4,500 and occur only at 200,000-30,000 km. I mean that exclusively on the S85 battery pack. The other S75 90 and 100 are almost indestructible even at 500,000 km. This one came with a breakdown of the insulation from the High Voltage system to the chassis. In a microsecond the system activated PERMANENT ISO F123 to protect the rest of the system. After testing the HV distribution box, we found that it is not the external insulation, but the internal insulation in the battery. In such scenarios, it is VERY IMPORTANT to remove the battery IMMEDIATELY, meaning IMMEDIATELY, not tomorrow or the day after tomorrow or in a month, because total damage occurs. The owner immediately brought the vehicle to the EV Clinic LAB as recommended. The battery was immediately removed and further damage stopped. This battery pack has 4 damaged modules and we will restore them all, the BMS must be repaired and reprogrammed. This is also one of the worst cases we have had and fast delivery was key. Battery failed on 260000km
Workshop is located in Croatia. We can organize repair in our franchise in Germany, Istanbul, Montenegro, Serbia, Romania or we can send tow truck to pick it up and deliver it to our lab in Zagreb.
PART 1 – Stigao kralj asfalta i ikona eMobility-a, jedino vozilo bez ijednog programiranog kvara i po nama najkvalitetnijim pogonskim sustavom na svijetu. Jedini EV koji prelazi tisuće kilometara na kojem je moguće apsolutno svaki kvar otkloniti i do 20x jeftinije nego za bilo koji drugi EV. Jedino vozilo kojemu ne treba nikakav multiplexer i dijagnostika, jer je vozilo laptop sa svojom integriranom dijagnostikom tj sustav zaslona je Linux Ubuntu. Defekti kao ovaj što je došao, kvar baterije su i najjeftiniji za rijesiti od svih EV na trzistu. Kvarovi pocinju od 200€ do 4500€ i javljaju se tek na 200000-30000km. To mislim iskljucivo na S85 battery pack. Ostali S75 90 i 100 su skoro pa neunistivi i na 500000km. Ovaj je došao sa probojem izolacije sa Highvoltage sustava na šasiju. Sustav u mikrosekundi je aktivirao PERMANENT ISO F123 da zastiti ostatak sustava. Nakon ispitivanja HV razvodne kutije ustanovili smo da nije vanjska izolacija već unutaranja u bateriji. Kod takvih scenarija VRLO JE BITNO da se baterija skida ODMAH, znači ODMAH, ne ni sutra ni prekosutra ni za mjesec dana jer nastupa totalna šteta. Vlasnik je odmah dovezao vozilo po preporuci u EV Clinic LAB. Baterija odmah skinuta i daljnja šteta zaustavljena. Ovaj battery pack ima ostecena 4 modula i sve ih budemo restaurirali, BMS moramo reparirati i reprogramirati. Ovo je ujedno i jedan od najgorih slučajeva koje smo imali i brza dostava je bila ključna. Vozilo je 9 godina staro, baterija je bilo jednom na servisu i ima 260000km sa jos originalnim diskovima i plocicama. S obzirom da ima besplatno punjenje dozivotno ovaj je ustedio bar 35000€ samo na gorivu. Takodjer po nasim procjenama i dosadasnjim iskustvom cak i ova stara S85 se moze preventivno 2-3 komponente zastiti da do kvara uopce ni ne dodje.
Errors:
BMS_F123
BMS_F107
BMS_F027
BMS_u029