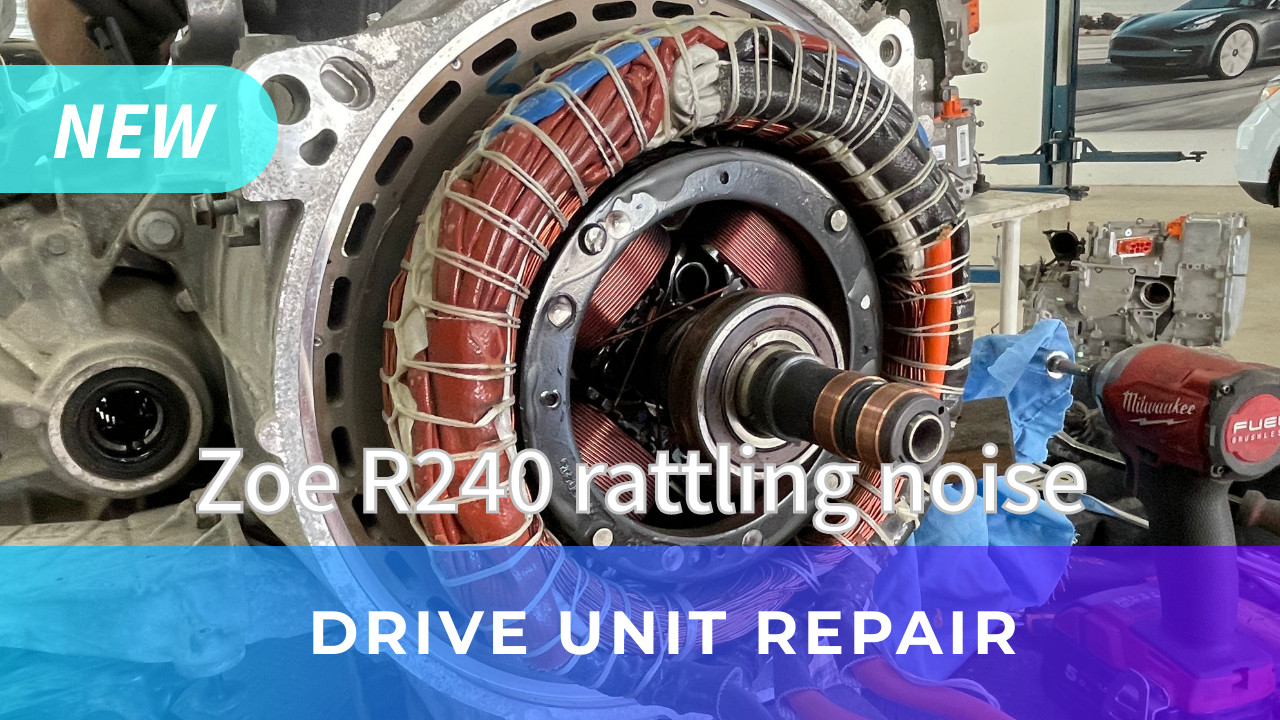 R240 is a newer generation drivetrain that many of us have been eagerly awaiting outside of the warranty period to see what fails on the air-cooled electric motor and the transmission differential. Two years ago, we received the first call from Varaždin regarding an EQ 453 Čmart, reporting that the motor had started milling and that the warranty claim was denied. The price of a new motor with replacement was around €4000, with only 90,000 km driven. At first, this seemed unusual for such a low mileage, but on the other hand, it wasn't surprising considering it's a French factory defect powertrain from the Renault Cléon factory, as if it was designed by some straight pipe, turbo diesel, DPF off, EGR off, EV-hating engineer, where not a single component was intended to be serviced or repaired (apparently, they haven't heard of the Balkans). They even managed to fit brushes on the rotor of the three-phase motor for exciting the windings, so that there's something to wear out. This is probably the only electric drivetrain on the planet that is both the worst and the most expensive.
For any operation on the drivetrain, the entire assembly must be removed from the vehicle. This is the first time we're repairing the buzzing and turning defect in the drivetrain, and the restoration process is relatively straightforward. The procurement of parts, bearings, seals, and other materials is a slightly more complicated part, as one particular bearing on the jacksaft extension in the gearbox is produced by only one company in France. Fortunately, Lageros had one in stock specifically for this project.
In addition to the mentioned Smart from Varaždin and this Zoe from Slovenia, we have received several inquiries from Germany, Slovenia, and Norway on similar car mileage arround 100000km, but we haven't had the opportunity to work on one yet. This particular case was successfully resolved at 1/4 of the cost of an authorized service at 118,000 km. The largest expense was the time required for disassembly and reassembly, followed by the cost of parts. In some cases, if there is turning and material wear in the differential, it may result in the wearing of the differential gears, where even after the complete drivetrain repair, a slight buzzing noise may remain, which is transmitted into the cabin. Gear replacement is not possible as they are not available, but in such cases, the entire restoration is still usable for the next 100,000 km until the next restoration.
It is strongly recommended to address any buzzing or turning sounds from the electric drivetrain immediately to prevent further damage.

HRVATSKI:
Renault Zoe – R240 pogon novije generacije koji već dugo iščekujemo izvan garancije da vidimo što to odlazi na zračno hladjenom elektromotoru a što na prijenosnom diferencijalu. Prije 2 godine prvi poziv smo dobili iz Varaždina za EQ 453 Čmart da je motor počeo zujati i da nisu prihvatili garanciju a cijena novog motora sa izmjenom je bila oko 4000€ na prijedjenih 90000km. Sto je na prvu čudno za tako malan broj kilometara ali na drugu i nije čudno jer to je francuski škart pogon iz Renault Cléon tvornice kojeg kao da je dizajnirao neki strejt pajp turbo dizel dpfoff egroff EV hejter inženjer gdje niti jedna komponenta nije osmišljena da se servisira i popravlja (valjda nisu čuli za balkan) gdje su na trofazni motor uspjeli uglaviti i četkice na rotoru za pobudu namotaja da se ima šta trošiti. Ovo je vjerovatno jedini električni pogon na kugli zemaljskoj koji najgori i najskuplji. Za svaku operaciju na pogonu, kompletan pogon se mora vaditi vani iz vozila. Na ovom prvi put repariramo defekt zujanja i tokarenja u pogonu i što se tiče same restaturacije proces je poprilično jednostavan. Nabava dijelova, lezajeva, brtvi i ostalog materijala je malo kompliciraniji dio jer na jacksaft produžetku rotora u mjenjaču jedan ležaj ne proizvodi nitko osim jedne firme u Francuskoj. Imali smo sreću da je Lageros imao na stanju jedan baš za ovaj projekat. Osim ovog spomenutog Smarta iz Varaždina i ovog Zoe iz Slovenije, imali smo nekoliko upita iz Njemačke, Slovenije, Norveške ali nismo imali priliku da i radimo na jednom. Ovaj je uspješno riješen za 1/4 troška ovlaštenog servisa na 118000km, najveci trosak je vrijeme demontaže i montaže a zatim trošak dijelova. U nekim slučajevima ako dodje do tokarenja i trosenja materijala u diferencijala, može se desiti da dodje do trošenja zubi diferencijala gdje i nakon reparacije cijelog pogona i dalje ostane manji zvuk zujanja zubi koji se prenosi u kabinu. Izmjena zubčanika nije moguća jer ih nema u nabavi, ali u tom slucaju kompletne restauracije cak iako ostane zujanje zubčanika cijeli sustav je realno upotrebljiv narednih 100000km do sledece restauracije. Svakako je preporuka da se svaki zvuk zujanja i tokarenja iz električnog pogona otkloni odmah kako nebi doslo do veće štete.

SLOVENSKI:

Renault Zoe – R240 je pogon nove generacije, ki smo ga že dolgo čakali, a je zunaj garancije, da vidimo, kaj odpove na zračno hlajenem elektromotorju in kaj na prenosnem diferencialu. Pred 2 letoma smo prejeli prvi klic iz Varaždina za EQ 453 Čmart, da se je motor začel ropotati, vendar garancije niso sprejeli, cena novega motorja z zamenjavo pa je bila približno 4000 € pri prevoženih 90000 km. Na prvi pogled je to nenavadno za tako majhno število prevoženih kilometrov, vendar pa na drugi strani tudi ni presenetljivo, saj je to francoski slabo narejen pogon iz Renaultove tovarne Cléon, ki ga je oblikoval nek strejt pajp turbo dizel dpfoff egroff EV sovražni inženir, pri čemer nobena komponenta ni bila zasnovana za servisiranje in popravilo (verjetno niso slišali za Balkan), kjer so uspeli v trifazni motor vgraditi še ščetke na rotorju za vzbujevalno navijanje, da se ima kaj za obrabiti. To je verjetno edini električni pogon na svetu, ki je najslabši in najdražji. Za vsak poseg na pogonu je treba celoten pogon odstraniti iz vozila. Tokrat prvič popravljamo okvaro ropotanja in vibriranja pogona, kar se tiče same restavracije, je postopek precej preprost. Težje je pridobiti dele, ležaje, tesnila in drugi material, ker nihče ne proizvaja enega ležaja, ki ga potrebujemo za ta projekt, razen enega podjetja v Franciji. Imeli smo srečo, da je Lageros imel na zalogi enega ravno za ta projekt. Poleg omenjenega Smarta iz Varaždina in tega Zoeja iz Slovenije smo prejeli nekaj povpraševanj iz Nemčije, Slovenije, Norveške, vendar nismo imeli priložnosti delati na nobenem od njih. Ta primer smo uspešno rešili za 1/4 stroška pooblaščenega servisa pri 118000 km, največji strošek je čas demontaže in montaže, nato pa strošek delov. V nekaterih primerih, če pride do vibriranja in obrabe materiala v diferencialu, se lahko zgodi, da pride do obrabe zobnikov diferenciala, pri čemer kljub popravilu celotnega pogona še vedno ostane manjši zvok ropotanja zobnikov, ki se prenaša v kabino. Zamenjava zobnikov ni mogoča, saj jih ni na voljo, vendar je v tem primeru celoten sistem dejansko uporaben še naslednjih 100000 km do naslednje restavracije. Vsekakor je priporočljivo, da se vsak zvok ropotanja in vibriranja v električnem pogonu odpravi takoj, da ne pride do večje škode.
Fault: Grinding, milling, buzzing
Part numbers: R290106596R, 290H88657R, 290H20130R, 290628587R, 290103231R, 296053480R,
OEM Renault: 3500€ + Tax
EV Clinic: 1100€ + Tax