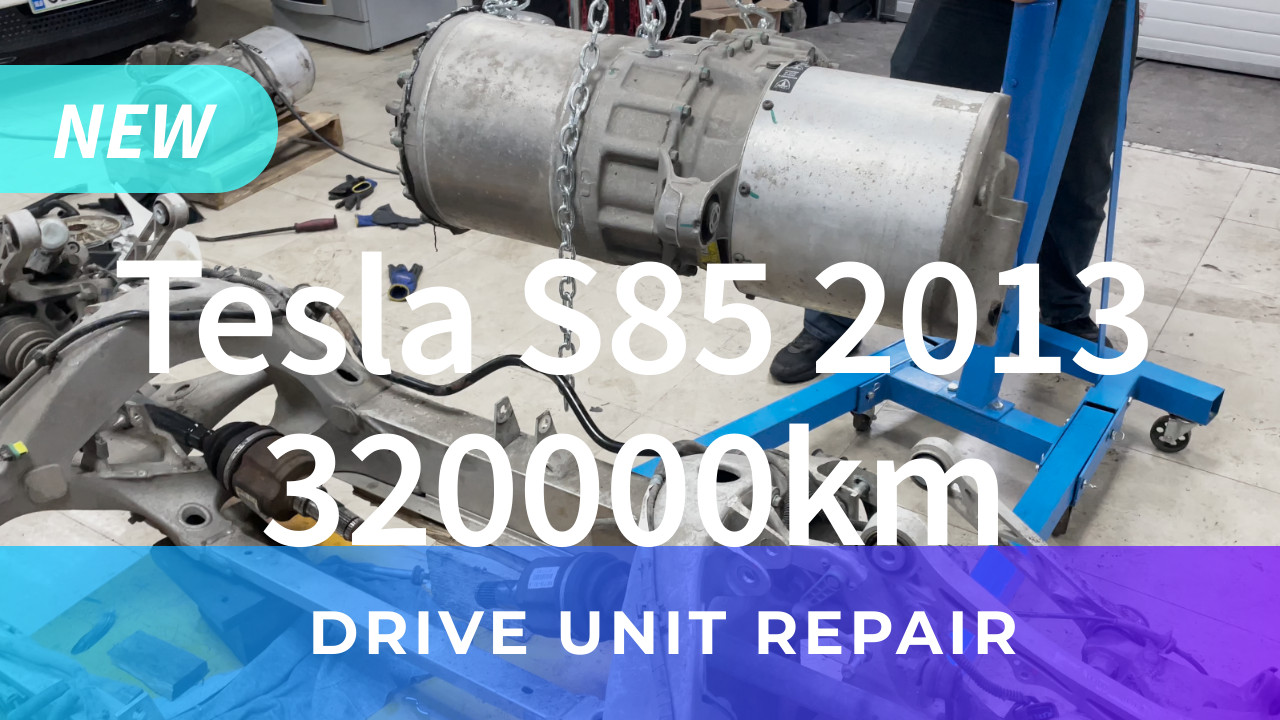 We do not only repair electronic on component level, we do not only research and develop solutions for them. We got very capable team of mechanic engineers to repair even hardest mechanical defects on powertrains. Model S 85 arrived with defect and still original Large Drive unit (BASE). Loud low and high pitch rattling noise was coming from it. We completely dissembled rotor site and gearbox side. First coolant penetrated external rotor shaft ball bearing on rubber shaft seal, it was overheated and damaged. Coolant then enter ball bearing and flushed oil lubricant. Second spot of failure was internal ball bearing on first gear from rotor, probably because of damaged rotor bearing. And third spot was High voltage cable water ingress. Lets say 9 years and 320000km without any servicing made some marks on it, but not unsolvable. This drive unit cant hold more than 250000-300000 without gearbox lubricant change, gearbox cleaning and ball bearing change. Big output power of 280kw should be maintained. First signs for servicing are covered by 3 universal rules: 1-noise 2-vibration 3-oil/coolant/body overheating. If you hear any of that, it is better to prevent it.
Ne repariramo samo software i hardware na "componente level", ne istražujemo i ne razvijamo samo rješenja za njih vec imamo i vrlo sposoban tim mašinskih inženjera za popravak čak i najtežih mehaničkih kvarova na pogonskim sklopovima elektricnih vozila. Model S 85 stigao je s djelomicnim kvarom i još uvijek originalnim Large DRIVE UNIT. Iz njega je dolazio glasan zvuk zveckanja niskog i visokog tona. U potpunosti smo rastavili stranu rotora i stranu diferencijala. Prvo je rashladno sredstvo prodrlo u vanjski kuglični ležaj (koji se hladi antifrizom) osovine rotora na samom semeringu osovine, pregrijalo se i oštetilo dual lip brtvu. Rashladna tekućina zatim ušla u kuglični ležaj i ispralo mast u ležaju. Drugo mjesto kvara bio je unutarnji kuglični ležaj na prvom zubčaniku prijenosa od rotora, vjerojatno zbog oštećenog vanjskog ležaja rotora. I treće mjesto bio je ulazak vode u visokonaponski kabel (to jos nije bio kvar, ali mogao je biti nekad kroz 50000km). Voznja od 9 godina i 320 000 km bez ikakvog servisiranja ostavilo je neke tragove na njemu ali ne nerijesive. Po ovim procjenama nase analize dva motora, ova pogonska jedinica ne može izdržati više od 250000-300000 bez promjene maziva mjenjača, ispiranja diferencijala i promjene kugličnih ležajeva. Treba održavati veliku izlaznu snagu od 280kw. Prvi znakovi za servisiranje pokriveni su 3 univerzalna pravila: 1-buka 2-vibracije 3-pregrijavanje ulja/antifriza/kućišta.
Fault: Vibration at hard acceleration, squeaking noise on low speed, ratling noise.

Part number: 1007972-00-B, 1056680-00-Q, 1002633-00-T, 1002633-01-P, 1002633-01-T, 1025276-00-Q, 1025598-00-P, 1025598-00-T, 1025276-00-Q, P1002887-01-E, P1062387-00-B, P1057981-00-B, 1058273-03-F,

Possible alerts: DI_W108, DI_W072, DI_F072,
Price Tesla Service center : 4900 € + VAT
EV Clinic : 1000-2800€ + VAT
If you need repair TRAINING, PART LIST or REPAIR KIT, you can order it from us. Feel free to contact us.